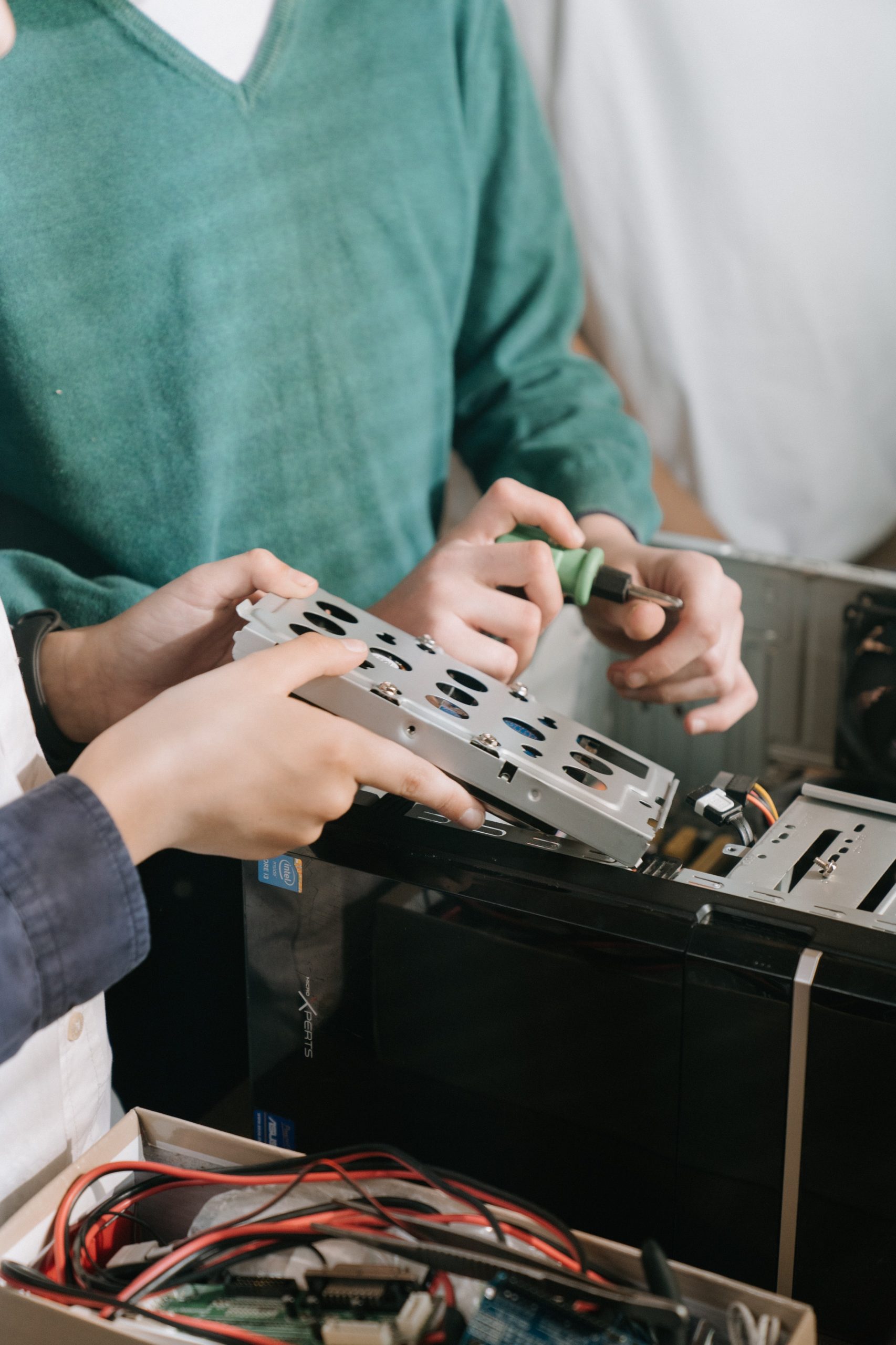 IT Real Simple: The Managed IT Services in Nova Scotia
January 31, 2022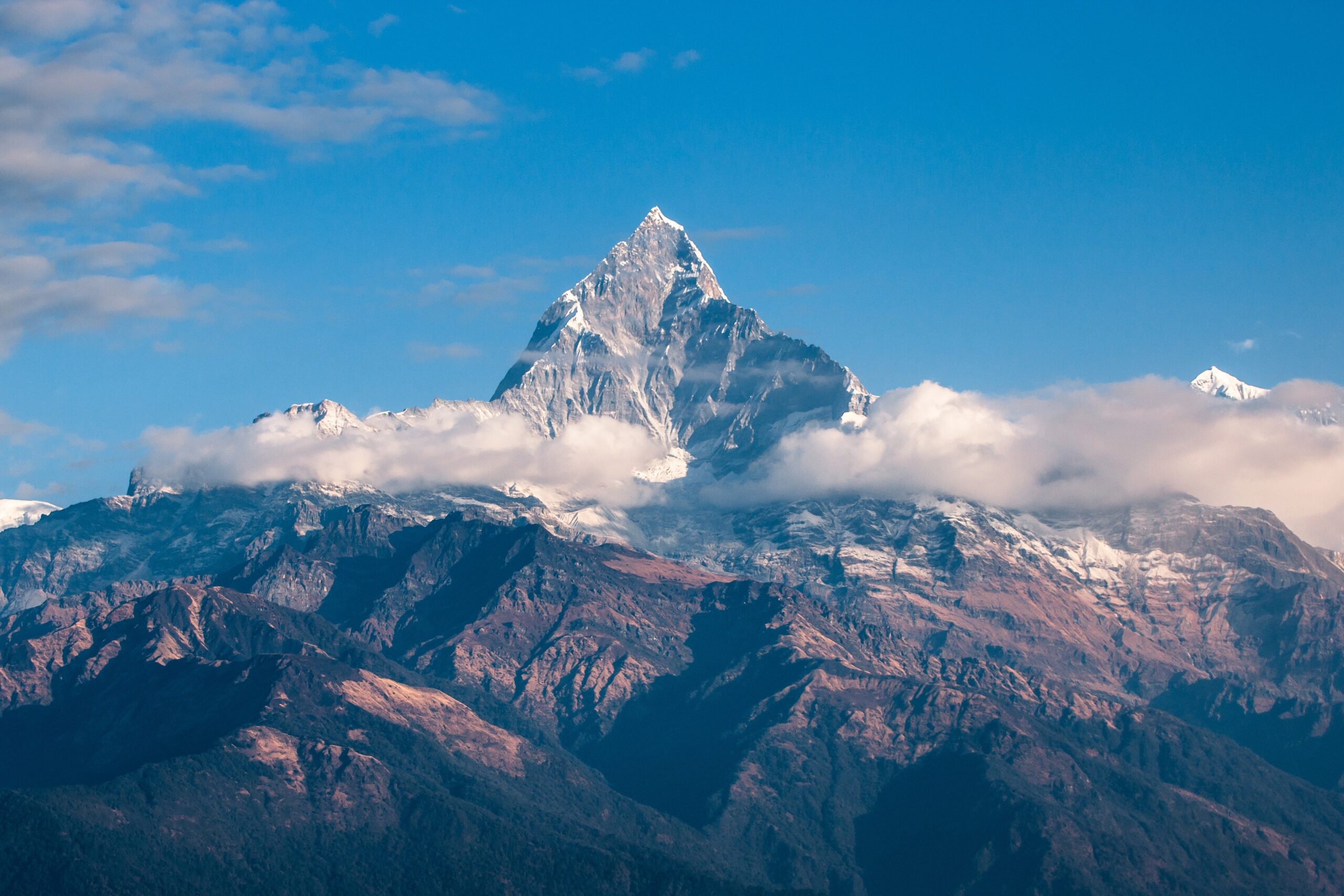 How to Implement Cloud Backup Systems in my Business?
January 3, 2023
 How Canadians do business has changed. To stay competitive and grow, small and medium-
sized businesses need to adopt new digital tools.
The Canada Digital Adoption Program (CDAP) can help get your business online, give your
e-commerce presence a boost or help digitalize your business's operations. CDAP provides
funding and support to businesses, as well as training and work opportunities for young
Canadians.
The program offers two grant options:
The Grow your Business Online grant helps small businesses take advantage of e-commerce
opportunities, by providing:
Access to a network of e-commerce advisors for advice and support
Up to $2,400 to buy new e-commerce tools
The Boost Your Business Technology grant helps small and medium-sized businesses adopt new digital technologies, by providing:
Free digital assessment tool to evaluate your own digital readiness
Up $15,000to consult a digital advisor and develop a digital adoption plan
Up to $100,000 in interest-free loans from BDC to help implement the digital
adoption plan
Funded work placements for students or recent graduates who can help with digital
transformation
Stream 1
GROW YOUR BUSINESS ONLINE
Will provide up to 90k micro grants and up to 11.2k youth job placements to help customer facing small businesses develop and implement their e commerce strategies
Access digital advisors who can help you discover and implement new e commerce tools
Stream 2
BOOST YOUR BUSINESS TECHNOLOGY
Grants of up to $15 k for advisory services to develop a digital adoption plan.
Access to a network of Canadian digital advisors
Potential to get up to a $100k, 0% interest BDC loan to implement your digital plan
Access to a youth placement for SMEs undertaking digital transformation
Speak with us about the program today!
Eligible SMEs will receive a grant for 90% of their fees (up to $15,000) to pay a digital advisor to help them develop a digital adoption plan.

SME eligibility criteria:
• Sole proprietors or businesses incorporated under the laws of Canada or a province/ territory
• For profit
• Privately owned
• Full time equivalent employees between 1 499
• $500,000 to $100M of annual revenues in one of the previous three years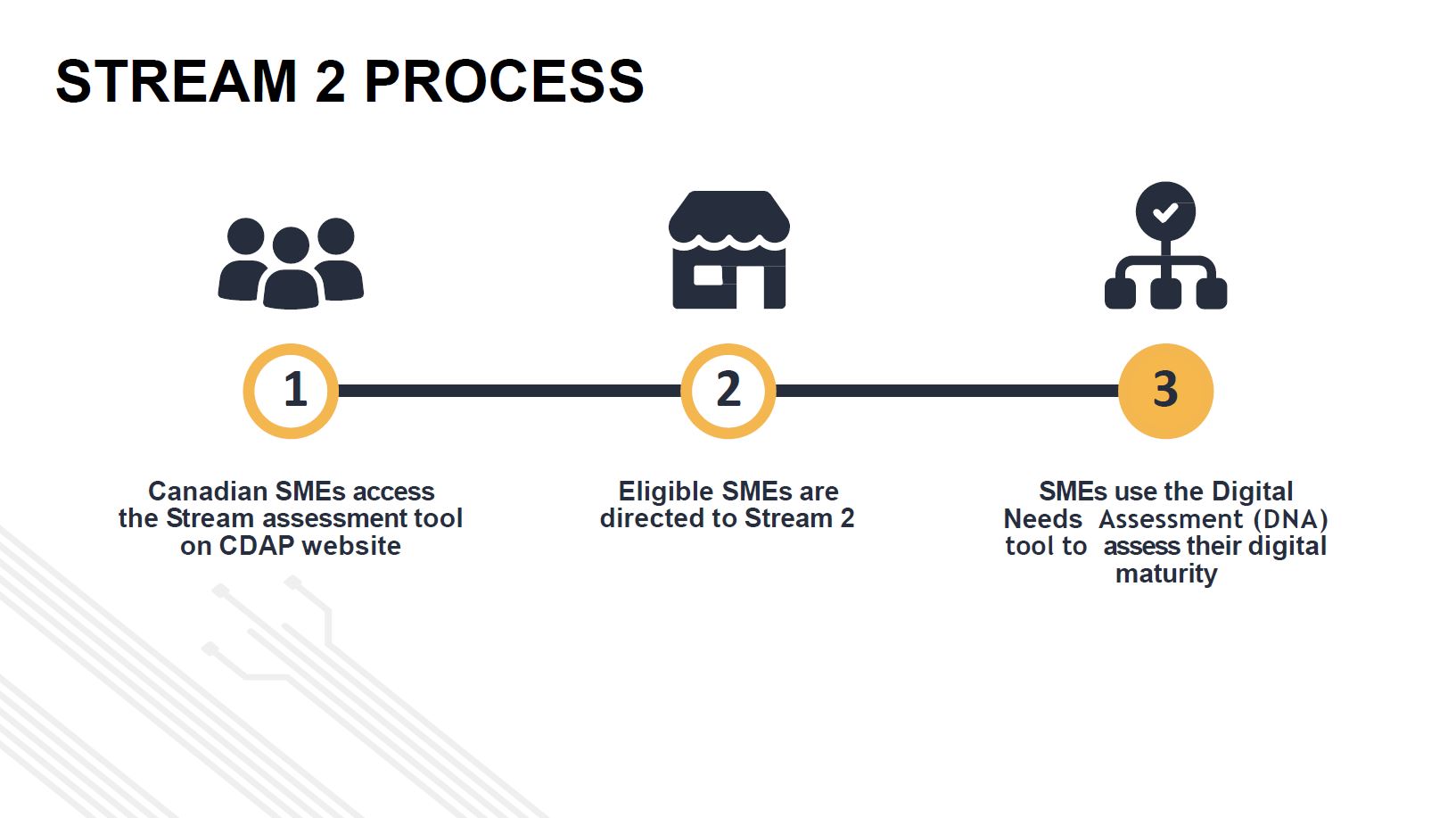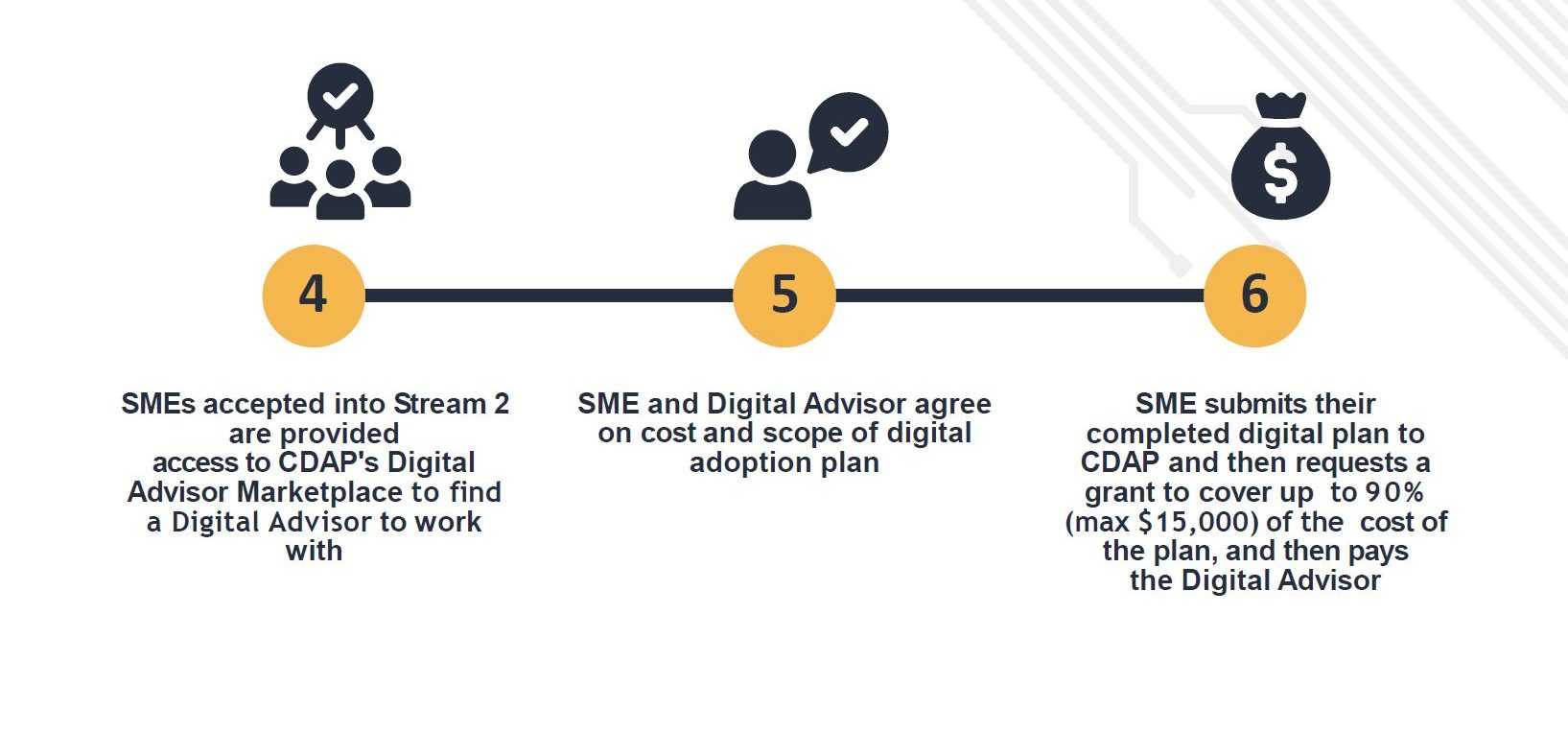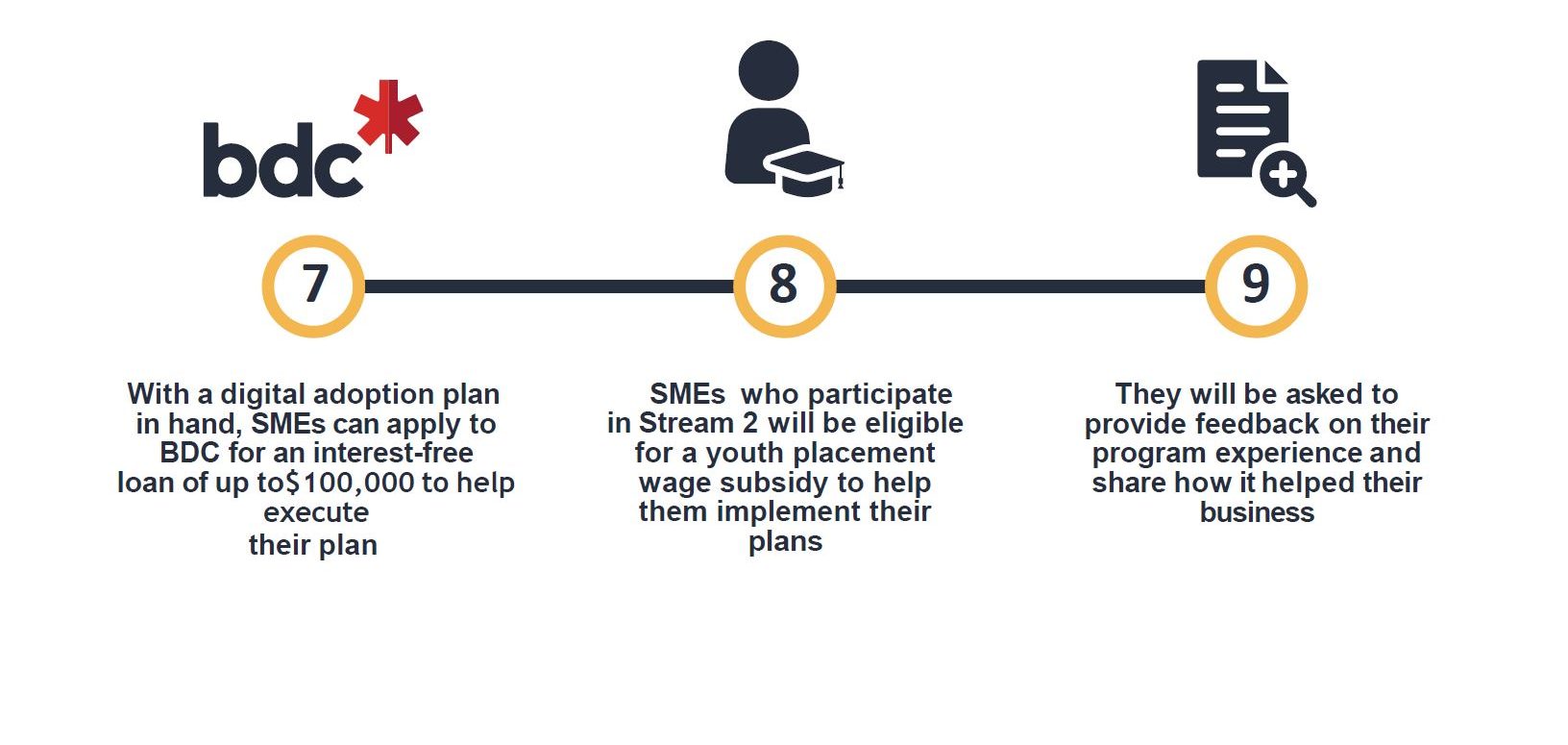 ELEMENTS OF A DIGITAL ADOPTION PLAN
Executive summary
Provide a high level summary of the key elements of this plan for the SME
Current state analysis
Provide an overview of key business information, such as their strengths, weaknesses, opportunities and threats, their external issues as well as key IS/IT information.
Digital adoption analysis and recommendations
Identify a minimum of three potential digital/technology solutions for the SME to consider including how each of those solutions will benefit the SME's business.
Implementation roadmap
Identify the key elements to implement the recommended options including timeline, dependencies, costs to acquire the technology, etc.
Closing the digitization gap between Canadian businesses and their global competitors
Objectives:
• Increase SME productivity and competitiveness
• Maintain/grow SME revenues and market share
• Support youth training and job placements

At a glance:
• Increase SME productivity and competitiveness
• Maintain/grow SME revenues and market share
• Support youth training and job placements

BDC LOAN
BDC can help you bring your digital adoption plan to life!
1. You've completed your digital adoption plan, as part of CDAP OR under another recognized program submitted to ISED
2. Submit a request to BDC for a 0% interest loan of up to $100,000.
3. If accepted, receive up to $100,000 loan.